Perfect for up to 500 guests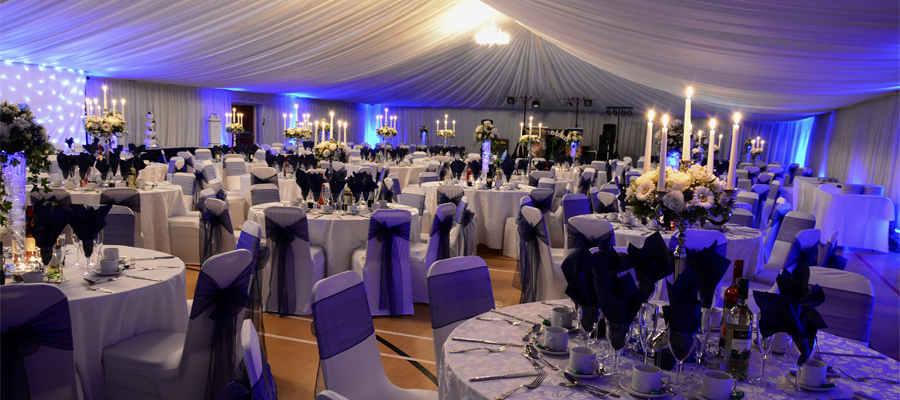 Don't worry, we've got it covered!
Our new carpeted floor covering is now available as an optional extra for all Grand Quee Suite Weddings & Events
Yes… no more lines!
Take a look at our before/after sample below!

The Grand Quee Suite is ideal for weddings, asian functions, band nights, charity events, religious events, just about any larger event that you may have!
The 105ft x 55ft space can be customised and filled to suit your needs, we have flexible setup options and plans that can be tailored to your needs and  we also have many on-site extra features and options for you to choose.
Guests can enter though a separate entrance into the beautiful garden area, with lit trees, pergolas and an external marquee with a silk lined interior – this serves as the ideal place for a welcome drink and for photographs.
The Grand Quee Suite houses a luxurious silk lined marquee adorned with three chic crystal chandeliers and accommodates up to 500 guests.
The room can also be divided up for daytime and evening guests by a partition. A selection of up-lighters changes the colour of the room and creates an ambience to suit any occasion – It's the perfect way to personalise your function and wow your guests. It can also be set with elegant banqueting chairs and round tables, decorated to meet your requirements that seat up to 10 guests.
Mood lighting
A choice of  different mood lighting colours can be chosen to add a whole new dimension to your occasion.
Our lighting can be colour co-ordinated to suit your own colour scheme using our in-house LED downlighters that are discretely hidden in the ceiling of the suite, it's the perfect way to personalise your event and give it a splash of colour to complement the mood and give your guests that WOW factor!
Simply let us know your choice of colour or colours and we'll find the colours to suit.
Catering & Extras
A fully stocked bar is already permanently fitted in this room so guests can enjoy our wide selection of popular drink's including alcoholic & non-alcoholic beverages.
We have a selection of house wines, but if you'd require something a little more to your personal taste just let us know at your pre-wedding consultation with our wedding planner.
The option to supply your own wine & toast drinks is also available*
* Corkage fees apply
Our fantastic on site catering team are available to meet all of your catering needs at affordable prices.
Alternatively, a catering waiver can be paid to bring in your own food.
Our flexible food and drink arrangements are achievable for all budgets which can include:
– Full 3 Course Meals –
– Tailored buffets per person –
– Finger buffets  –
– Hot & Cold Food –
– Drinks on arrival –
– Waiting Service –
– Champagne, Wine & Bucks Fizz –